Posted by Golf4Her on Sep 8th 2021
You buy the golf outfit but it still just doesn't work for you. You chalk it up to not being thin enough, the outfit fitting weird or some other excuse. You're not alone. But we are here to tell you, all you need to feel better in your clothes is to learn how to pick clothing that works with your body shape instead of against it.
I cannot emphasize enough that every body is unique and beautiful and that you don't need to change yourself in order to feel better in your golf clothes. However, knowing your body shape helps you choose golf clothes that look good and fit your body type.
Can you change your body type?
Yes, kind of. Our body shape is mostly pre-defined by your genetics, skeletal structure and your predisposed fat and muscle distribution. While you can modify your body shape with exercise and dieting, for the most part, your body type does not change dramatically.
We have hormones to thank for naturally changing our body as we age. While your body structure will not change dramatically over the years, where you hold weight can change over time and can impact your body shape. For example, during puberty, your hips and bust may become larger/wider. During pregnancy, estrogen levels can cause your body to change, but usually go back afterwards. Then, at the onset of menopause, a change in hormones may result in our body shifting yet again and impacting our dominant body shape. We start carrying weight in areas we never did before. Being a woman is just so much fun, isn't it?!
For this reason, buying [golf] clothes can be a daunting process. But, we are here to help. The first step is determining your body type. Then, once you know that, picking the correct silhouettes that fit you for your body type will make shopping so much easier.
Just remember, not every trend is for every body, and that's okay.
Let's Determine Your Body Type
With that being said, get out a fabric tape measure, some paper and pen we're going to take some measurements. Incase you are not sure what type of measuring tape to use, it looks something like this:
Step 1: Measure Yourself
The surest way to figure this out is by taking four body measurements. But we suggest putting on something minimal to get an accurate measurement. You can measure yourself or recruit someone to help. The key it to make sure there is no drooping or slack in the tape.
The relationship among these four measurements numbers will reveal the shape of your frame.These measurements help with online shopping. So grab a pen and write these measurements down. You can even save them on your phone so they are always handy.
Shoulder - as high as possible on your shoulder. This measurement is sometime interchangeable with the bust measurements. Doing this accounts for those who have larger/smaller breasts or narrow/broad shoulders. If you consider both, you may find yourself in more than one body type category. Therefore, you can consider both when shopping. Most body type calculations use bust size. But we like to consider both depending on what we are purchasing.
Bust - Around the fullest part of your bust.
Natural Waist - measure the smallest part of your waist, which may be just below the rib cage and above your belly button.
High Hips - the circumference of the upper swell of your hips over the pelvic region.
Hip - the fullest part of your hips over your tush, not necessarily at your hip bone
Step 2: Find Your Shape
Now that we have some numbers, let's figure out your body shape.

We found a pretty easy to use body type calculator at calculator.net. Just plug in the measurements above and it gives you results right away. It uses a bunch of mathematical formulas to generate your body type based on the measurement you enter into the calculator.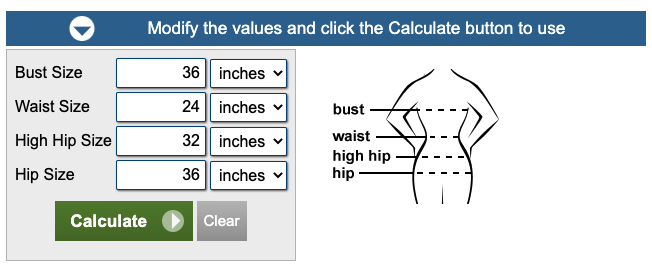 Otherwise, you can use the measurements you took to determine which one (or two) of these body types you fit into: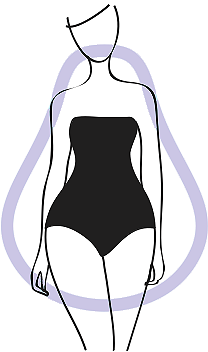 Pear/Triangle/Spoon [most common]
Your hips are wider than your shoulder and bust measurement by 2" or more. Or your hips are wider than your bust measurement by 4" or more.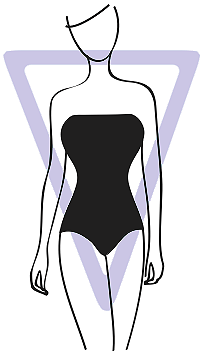 Inverted Triangle
Your shoulder and bust is wider than your hips.Your shoulder measurement is larger than your hips by 2" or more. Or your bust measurement is larger than your hips by 4" or more. Your shoulder and bust is wider than your hips.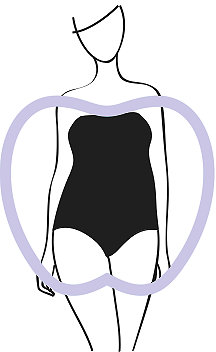 Apple/Circle/Round
If your waist is wider than your bust or hips by 2" or more. You may appear top-heavy due to a full chest and upper body with little to no waist definition. A large bust, narrow hips and a full midsection.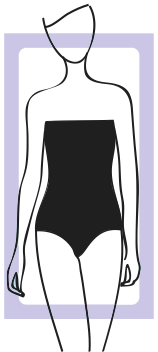 Banana/Rectangle
Your waist measurement is not 8" less than your bust, shoulders or hips. Your shoulder and bust and hips are around the same size with very little definition in your waist.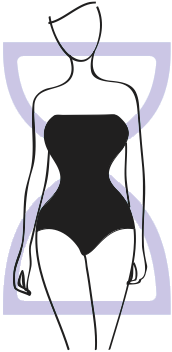 Hour Glass/X-Shape
Your waist measurement is 8" or more smaller than your bust and hip measurements. You have a clearly defined waist.
One last measurement: Are you Long or Short Waisted?
There is a quick and simple way to determine this helpful measurement.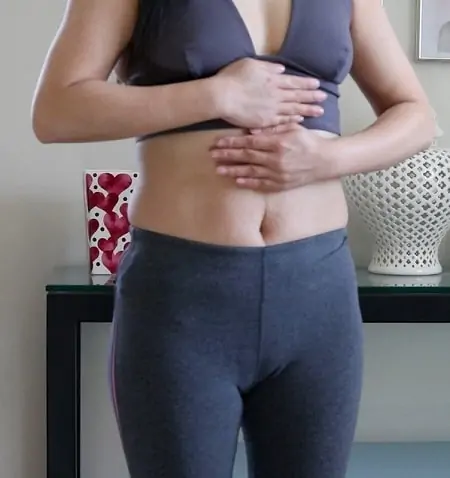 With palms facing your body, place one hand horizontally under your bust and the second hand below that hand. As if covering your abdomen with hands stacked.
Short Waisted - If your lower hand covers or goes past your belly button
Long Waisted - if your lower hand is 1-2" above your belly button
Proportionate - if your lower hand is right at your belly button
Well, now that you have a better understanding of your body type, it's time to figure out what styles you should look for based on your primary (and secondary body type). Stay tuned, our next post will be Dressing For Golf By Body Type.
In the meantime, if you still need assistance in determining your body type, leave a comment below.