Posted by Golf4Her Social Team on Apr 5th 2021
Our 7 favorite Masters recipes and cocktails to make and enjoy during Masters week.
This week is always special for us. It's not only Masters week, but we launched Golf4Her on the Friday of the Masters back in 2010. So, there is always something to celebrate.
Green Jacket Salad
1 head iceberg lettuce, washed and chopped
croutons for garnish
1/4 cup Parmesan cheese, grated
4 tbsp. olive oil
6 tbsp. red wine vinegar
2 tsp. oregano
2 tsp. Lawry's seasoning salt
2 Roma tomatoes chopped
1 tsp. dried parsley
1/2 tsp. onion powder
1/2 tsp. garlic powder
1/8 tsp. red pepper
1/4 tsp. ground black pepper
1/8 cup flat parsley, chopped
Place iceberg lettuce in a bowl. Then, in a blender or a food processor, combine remaining ingredients (with the exception of the croutons and cheese) and mix until blended. Pour dressing over lettuce. Garnish with cheese and croutons.
Credit: Southern Peach
Pimento Cheese Sandwich
3 cups shredded white cheddar cheese
2 cups shredded yellow sharp cheddar cheese
4 oz crumbled blue cheese
1 cup shredded Parmesan cheese
1 (4-oz) jar sliced pimentos, drained
1 cup light mayo
2 tbs Dijon mustard
1 loaf of white bread
Combine cheeses, pimentos, mayo and mustard in a food
processor and process until smooth. Cover and chill. Spread on
bread slices. Makes four sandwiches.
Yields 6 servings
Credit: Intentional Hospitality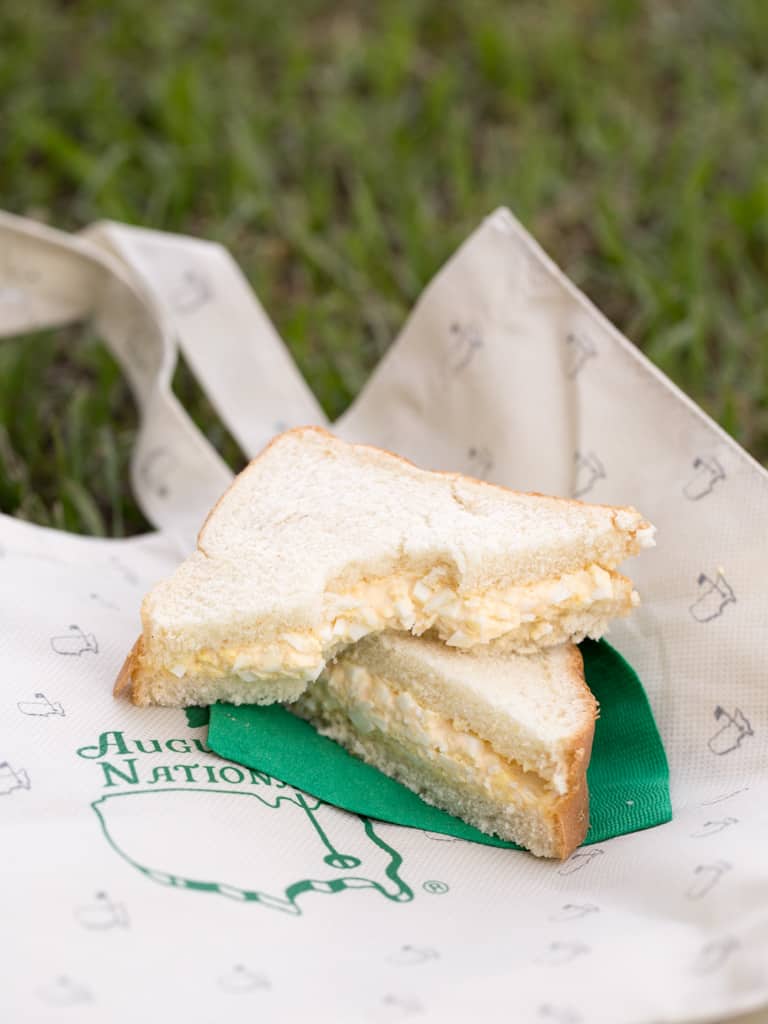 Masters Egg Salad
6 hard boiled eggs
1/2 cup Dukes mayonnaise
1/8 teaspoon sweet paprika
Soft fresh white bread
Chop hard boiled eggs very fine, the whites should be the size of peas or smaller. Combine chopped eggs, mayonnaise and paprika in a bowl, mix until egg yokes and mayonnaise form a creamy consistency.
Place four slices of the bread on a clean work surface. Divide the egg salad equally between the bread and top with the remaining 4 slices of bread. Using a serrated knife, halve on the diagonal. Serve immediately.
Yields 3 servings
Credit: Intentional Hospitality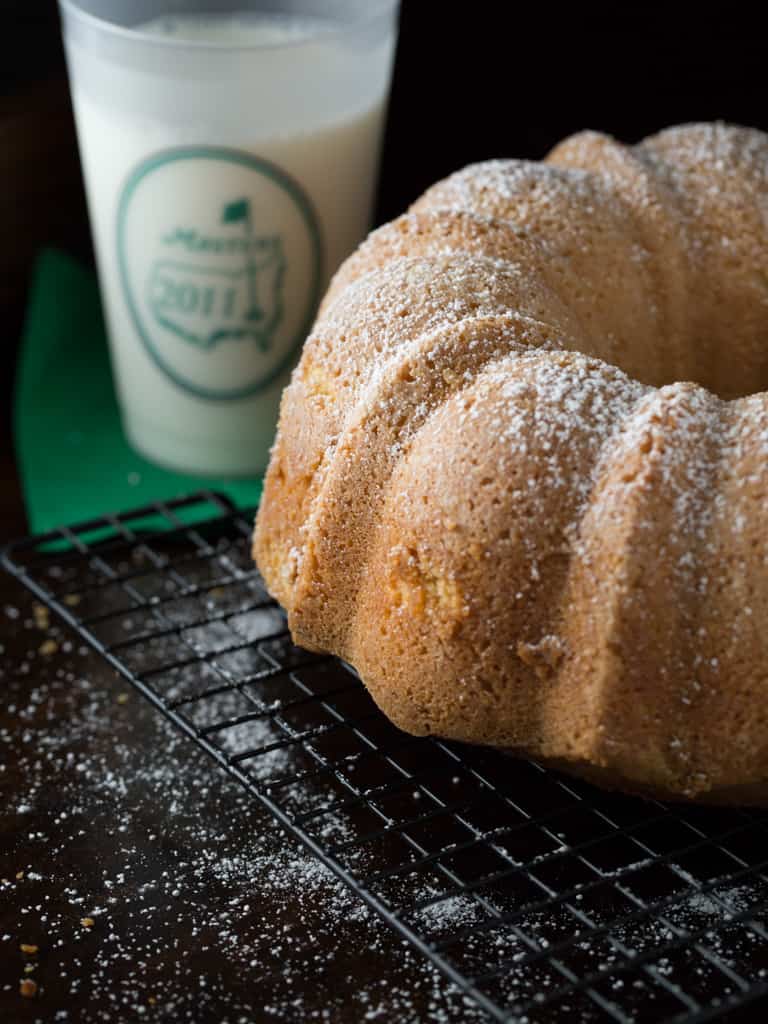 Augusta National Sour Cream Pound Cake
Prep Time: 10 mins
Cook Time: 1 hour 15 mins
Total Time: 1 hour 25 mins
2 sticks butter soften to room temperature (only use real butter!)
2 2/3 cups sugar
6 eggs
1/4 teaspoon baking soda
1 8-ounce carton sour cream
3 cups plain flour
1 teaspoon vanilla
Cream butter and sugar well.
6-cup bundt pan
Pre-heat over to 300-degrees
Add one egg at a time, mixing well after each addition.
Stir soda into sour cream, allowing it to dissolve.
Add flour and sour cream to butter mixture.
Add vanilla.
Pour into a greased and floured tube or bundt pan.
Bake for 1 hour (place the cake in a cold oven, and then set the temperature. While baking, do not open oven).
Continue baking at 325 degrees for 15 minutes longer.
Cool on a rack for 10-15 minutes and remove to a plate or cooling rack.
Author: Augusta National Golf Club (Tea-Time At The Master's cookbook)
Georgia Peach Ice Cream Sandwich
This recipe is for just the Peach Ice Cream. You can use your favorite sugar cook or make your own. We recommend this recipe.
3-1/2 cups sugar
2 cups half-and-half cream
3/4 teaspoon salt
6 eggs lightly beaten
4 cups heavy whipping cream
2 teaspoons vanilla extract
6 to 8 medium peaches peeled and sliced or 4 cups frozen unsweetened peach slices
Sugar cookies
1 . In a large saucepan, heat half-and-half to 175°; stir in the sugar and salt until dissolved.
2. Whisk a small amount of hot cream mixture into the eggs.
3. Return mixture to the pan, whisking constantly.
4. Cook and stir over low heat until the mixture reaches at least 160° and coats the back of a metal spoon.
5. Remove from the heat. Cool quickly by placing pan in a bow of ice water; stir for 2 minutes.
6. Stir in whipping cream and vanilla
7. Press plastic wrap onto surface of custard. Refrigerate for several hours or overnight.
8. Place peaches in a blender over, and process until pureed.
9. Stir into the custard.
10. Fill cylinder of ice cream freezer two-thirds full; freeze according to manufacturer's directions.
11. Refrigerate remaining mixture until ready to freeze, stirring before freezing each batch.
12. Allow to firm up in the refrigerator freezer for 2-4 hours before serving.
13. Scoop large balls of ice cream onto a parchment-lined baking sheet, spacing about 3 inches apart. Top the scoops with another piece of parchment. Gently flatten the scoops into 2-inch disks about 1-inch thick. Put the baking sheet in the freezer to harden while making the cookies.
14. Once ready place between two sugar cookies and enjoy
Credit: callmepmc.com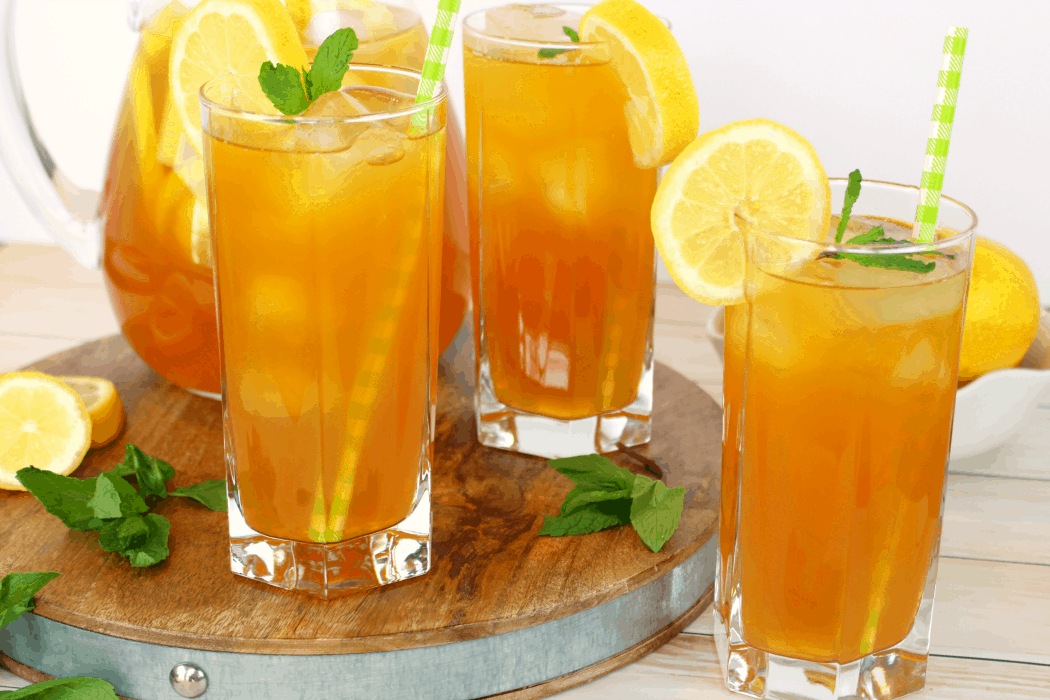 Original Arnold Palmer
Iced Tea portion:
3-4 black tea bags,
4 c. water, divided
Lemonade portion:
3/4 c. lemon juice
1/2 c. sugar
3 1/4 c. cold water
You can use store bought tea and lemonade.
For a sweeter tea, increase sugar to 3/4 cup. For a more tart, less sweet tea, reduce sugar to 1/3 - 1/4 cup of sugar. Adjust to your taste preference.
Step 1: In a microwave safe glass measuring cup or bowl, add 2 c. of water with 3-4 black tea bags. Microwave for 2 minutes. Remove from microwave and let tea steep for about 5-10 minutes. Remove tea bags, pour tea concentrate into a pitcher and add 2 more cups of cold water. Stir.
Step 2: In a separate container, like a large glass measuring cup, combine lemon juice, sugar and 3 1/4 c. cold water. Stir to dilute sugar. Pour into pitcher with ice tea mixture and stir to combine. Chill. When ready to serve, pour into glasses over ice. Keep refrigerated.
For a spiked version: Add either Sweet Tea flavored vodka or Bourbon (one 1 oz. shot of either), per glass.
Yields 8 servings
Credit: Delightful E Made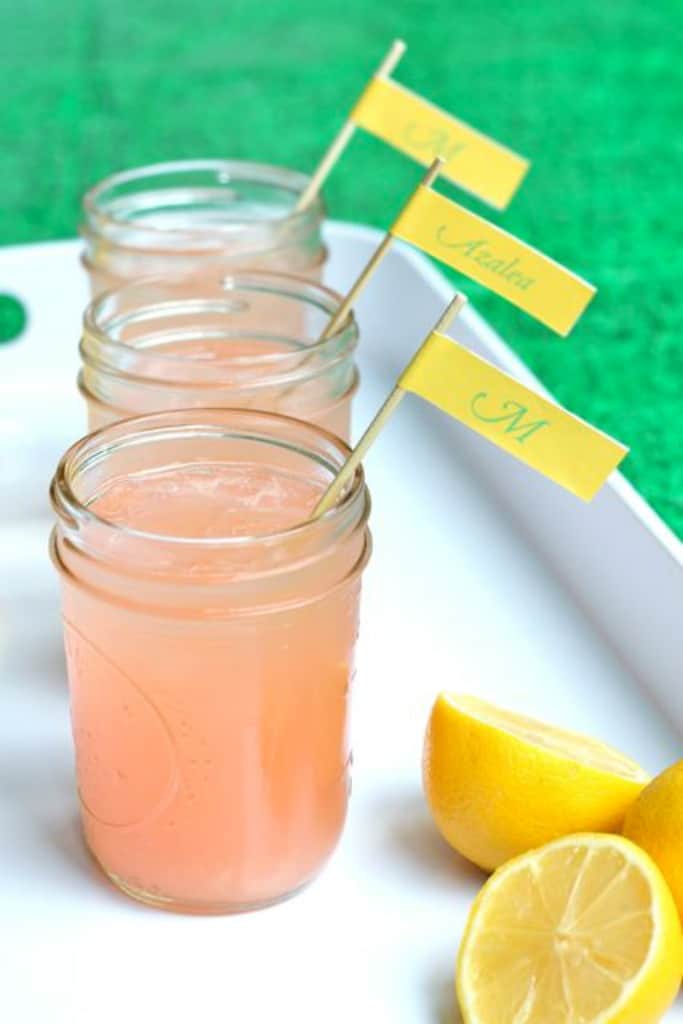 Azalea Cocktail - Signature Drink of the Masters
2 parts gin (substitute vodka)
1 parts lime or lemon juice
1 parts pineapple juice
splash of grenadine
In a cocktail shaker, combine ingredients
Pour over ice into a small mason jar
Garnish with a lemon wedge
Yields 1
Credit: Your Southern Peach
Let us know if you try any of these Masters treats!