We're so excited to announce our partnership with RoundUp App – a "spare change" platform that lets you donate the rounded up change from your Golf4Her.com purchases directly to the Golf4Her Foundation.
It's simple to do.
Once you are ready to check out on Golf4Her.com, head over to the check out page. Click the RoundUp For Charity box and your order will automatically be rounded up to the nearest dollar. Your RoundUp donation will be added to your Order Summary and 100% of your spare change will be donated to the Golf4Her Foundation.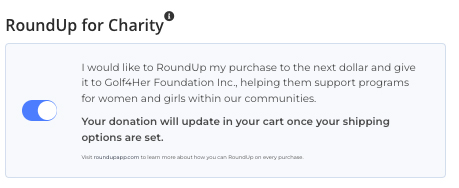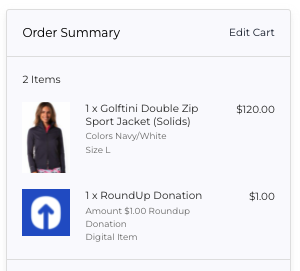 About The Golf4Her Foundation
The Golf4Her Foundation was established in 2021 and is a non-profit 501(c)(3) charitable organization, which supports scholarships and financial assistance programs for women and their families. Our Mission is to positively impact the lives of women and girls by providing financial support through various fundraising events with 100% of the proceeds going directly to the individuals, families or charitable organizations that are aligned with our mission.
To learn more about how you can support the Golf4Her Foundation, click here.
Thank you for your kindness, generosity and support.
Christina
President, Golf4Her Foundation